On Thursday, March 24, Beyond Extreme Energy held an action outside the Federal Energy Regulatory Commission (FERC) to protest their approval of tree-cutting for pipeline projects that have not received all of the necessary permits. The action, called "Pancakes Not Pipelines," focused on the Holleran family's maple syrup farm in Pennsylvania.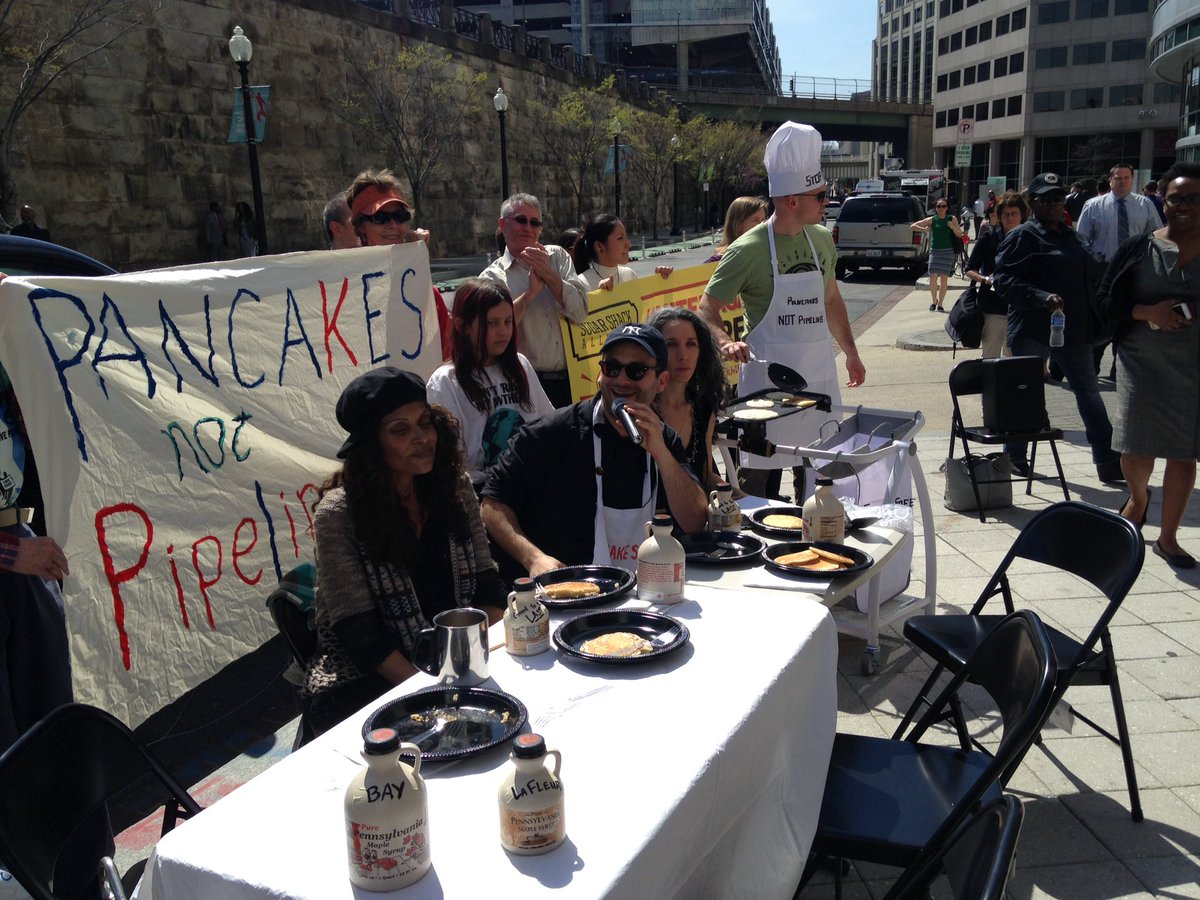 The Holleran's have owned their farm since the 1950's. Their land was taken from them by Williams using eminent domain for a pipeline that extends into New York. The project has not received all of its permits, but Williams, eager to start construction, gained approval to start cutting trees. The Hollerans tried to stop the cutting, but Williams persevered, eventually bringing armed federal marshals to threaten the family and supporters while hundreds of trees were toppled. Megan Holleran brought the last of the family's maple syrup to the action at FERC.
Josh Fox, producer of Gas Land, and climate activist Tim DeChristopher cooked pancakes using a solar-powered stove. They and others from front line communities that are fighting pipelines, compressor stations and fracking asked FERC employees to join them for a pancake lunch so they could explain how FERC's decisions hurt families, but nobody would come out. In frustration, Holleran, Fox, DeChristopher and four others sat in and were arrested.
I have been an active member of Beyond Extreme Energy since November, 2014. Our actions have exposed that FERC is fully funded by the oil, gas and nuclear industries that it is supposed to regulate. In reality, the FERC is a rubber stamp for the industries and does not consider the health and safety of communities or climate change in its permitting process. This is why a dangerous gas refinery and export terminal were approved in Southern Maryland. Visit WeAreCovePoint.org to learn more about that.
The FERC needs to become accountable to the communities it impacts. And it needs to be part of the solution instead of adding to the climate crisis. Each oil or gas project locks in decades of more fossil fuel extraction and burning when scientists tell us that we don't have decades to reduce our carbon footprint. The climate crisis is here.
As your senator, I will push for the FERC and Department of Energy to work towards a rapid and just transition to clean and sustainable sources of energy such as wind, solar and geothermal by 2030. I will demand that the health and safety of communities are protected. They will not be sacrifice zones for corporate profit. You can learn more about the current science regarding the climate crisis and what we can do about it on our upcoming episode of Clearing the FOG radio on March 28 at 11 am. The next BXE mobilization at FERC will be May 15 to 22. I will be there and I hope that you will too.
CLICK HERE TO READ THE PRESS RELEASE FOR THE 'PANCAKES, NOT PIPELINES' ACTION.